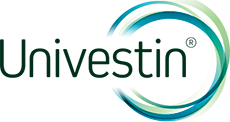 Overview
Science & Discovery
Overview
Univestin® is a patented, natural joint-care ingredient clinically proven to support joint comfort, enhance flexibility and support mobility. Univestin® contains proprietary bioflavinoids derived from two well-known medical plants and can be used daily.
What Makes Univestin® Unique?
Clinically shown to promote joint flexibility within 3 days*
Clinically shown to promote joint comfort within 5 days*
Clinically shown to support range of motion and physical function within 7 days*
Backed by two randomized, double-blind human clinical trials
Proven safe through dozens of safety studies and long-term human consumption
Provides potent antioxidant activity*
Promotes healthy aging and overall wellbeing*
Univestin®

Key Benefits*
Clinically proven to provide rapid and long lasting relief from joint discomfort.
Improves range of motion, flexibility and physical function.
Natural substances with history of safe human use.
Extensive in vivo and in vitro safety testing with no adverse effects.
High compatibility in formulating with other ingredients.
Patent protected.
Plant Origin
Derived from Scutellaria baicalensis and Acacia catechu
Applications
Alleviate joint discomfort and stiffness.
Improve mobility and range of motion.
Enhance flexibility and physical function.
Formulation
Can be used as an active agent in tablets, capsules, liquids, powders, bars and other delivery systems
Physical Properties
Greenish yellow to brown colored powder that partially dissolves in water.
*Indications and claims related to the health benefits or property of an ingredient or product are intended for industry only and are governed in accordance with country-specific laws and regulations and may not be appropriate for final consumer products. In the United States, it is your responsibility to ensure that product claims and indications are in compliance with all applicable laws and regulations, including the Federal FD&C Act and the FTC Act. In all other countries, please consult with a local regulatory or legal professional who may provide you with competent advice and guidance.
Science & Discovery
*These statements have not been evaluated by the Food & Drug Administration. This product is not intended to diagnose, treat, cure, or prevent any disease. These statements are presented for informational purposes only and are not intended to be presented to final consumers.
Want to learn more about Univestin®?
Interested in Becoming A Distributor?